Hyperautomation services
Identify, control and automate any business and IT processes to accelerate your company's growth.
Why hyperautomation with NTConsult can boost your business
Our way of working with
hyperautomation
is a business-oriented approach, which allows us to integrate cutting-edge tools and technologies to deliver results in process and task automation, extending your company's potential to grow in an organized and scalable way.
By combining the best platforms in Artificial Intelligence, Business Process Automation, Robotic Process Automation (RPA), and Process Mining, our seasoned professionals can orchestrate and automate even the most complex processes.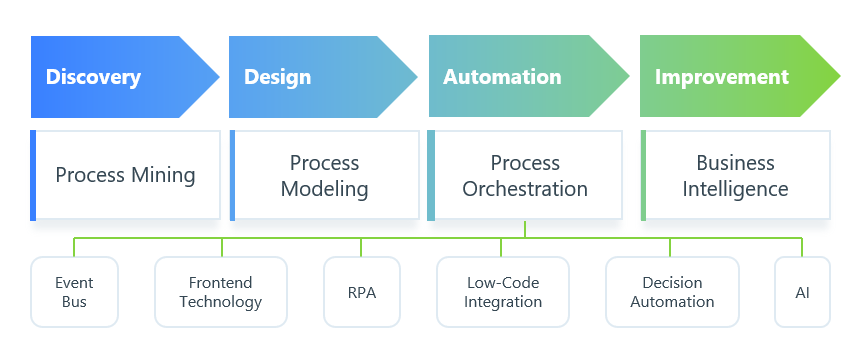 Since NT Consultants were "BPM experts" independent of the tooling, their perspective really helped us stabilize the application and resolve the user experience issues in 3 months, which was impressive as that was inclusive of the team having to rapidly on-board to our highly complex, regulated, financially performance guarantee laden Pharmacy Prior Authorization application concurrently."
Director, Software Engineering @ Medical Enterprise
Some benefits of hyperautomation with NTConsult
Promotes the orchestrated integration of disruptive technologies in your company's day-to-day business, executing processes faster and more efficiently and reducing errors.
Digitally transforms your organization by aligning business processes and technology investment.
Reduces the operational costs of organizations by combining hyperautomation technologies with redesigned operational processes.
Allows employees to focus their efforts on work that add value to the business, rather than working on repetitive tasks. This creates a smart working environment and enhances the capability of the workforce by increasing productivity.
Business Process Automation (BPA)
Orchestrate and automate even the most complex processes in your organization
!
Our approach on Business Process Automation allows us to automate complex processes and
build business agility
by using the most efficient BPMS (Business Process Management Suite) in the market, such as Oracle BPM, IBM BPM, Camunda BPM
,
and others (regarding the latter
,
Camunda itself considers us as the
m
ain Camunda Partner in North and
Latin
America for the second year in a row)
. Click here to
learn
more about our
results implementing
Camunda
in companies across industries
.
Extract the benefits of AI tools for your business quickly and seamlessly
!
Artificial Intelligence
can
greatly enhance
process orchestration by automating tasks, analyzing data, and
providing
intelligent insights
. Some services that can be
boosted
by implementing AI include
Intelligent Automation
,
Predictive Analytics
,
Cognitive Document Processing
, and
Intelligent Decision Support
, among others.
Robotic Process Automation (RPA)
Implement virtual robots under a business-oriented approach
!
We use Robotic Process Automation to analyze your workflows, ensuring a complete diagnosis of your business processes.
W
e can
work
in a consultative way
in accordance with
your strategic goals, proposing improvements in processes before applying automation.
Using the best tools in the market, such as
UIPath
,
BluePrism
,
and others, we can automate the operational activities of your business in a personalized way, according to the planned schedule, with agility and security.
Discover,
monitor
,
and improve processes, generating transparency in your workflows
!
​With this innovative technology, we help your company
monitor
and improve processes by extracting knowledge from event logs.
Besides, we are an official
Up
F
lux
partner, a modern and efficient platform that allows us to
implement assets that help
identify
deviations and waste, at the same time boosting your business potential to increase sales and improve the
capacity
to
provide
services, generating revenue and promoting
continuous process improvement.