Driving business growth through strategically enhanced software teams led by experts.
We collaborate with industry leaders, keeping technology at the core of our business.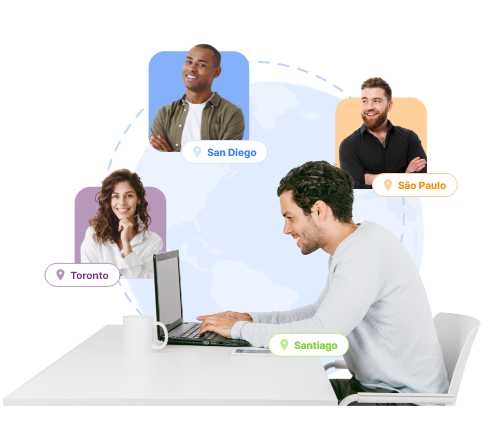 Much more than staff augmentation
We are a US-based nearshore software development company with over two decades of extensive, worldwide experience. We are much more than a staff augmentation company. We excel at consistently delivering significant value to our clients. We seek to amaze.
Highly skilled architects to help you make the best technical decisions.
User experience experts to aid you in designing, prototyping, and achieving top-notch products.
Our expert insights on team organization fueled by extensive work with industry leaders and their challenges.
AI components to expedite development, elevating both quality and productivity in the entire process.

"NTConsult was our top pick and they proved to be the right choice. The management team was knowledgeable and professional, easy to work with and flexible with our needs/requirements. Overall, a very successful partnership."

"Being located in San Diego, CA (Pacific Time) is challenging to work with most Asian based partners, but working with your engineers who were based in Brazil and Mexico made it very easy."
Eliminate bottlenecks with our end-to-end teams.
Accelerate development and Go-To-Market​ strategy
Technical expertise to match your projects​
Develop the best digital solutions for your business needs​
Create new sources of revenue and ensure customer satisfaction​
Deliver recurring value to your organization with cohesive teams aligned with your goals and values
Cost-effective talent acquisition. Access skilled experts temporarily, reduce hiring costs​
Scalability & flexibility: Adapt workforce to meet fluctuating needs​
Accelerate delivery. Fill skill gaps quickly for faster project completion​
Knowledge sharing fosters teamwork, collaboration, and skill development among teams
Software Engineering
(Full Cycle)
Develop and implement digital solutions designed and customized to accelerate your business goals, working with a large range of technologies and platforms. ​
Integrate modern tools to create end-to-end automation, working with orchestrated technologies such as Artificial Intelligence (AI), Process Orchestration, Robotic Process Automation (RPA), and Process Mining. ​
Great Solutions by Great People
Thinking about making a Camunda 7 to 8 migration? We have all the support you are looking for! Introduced at CamundaCon 2023, the process orchestration conference of the year, our "Camunda 8 Fast-track Service", service accelerates...
read more