Over the last two decades, NTConsult has been expanding throughout North and South America by helping clients achieve their technology goals. In 2019, one of our challenges was for a technically complex project for a large North American client: 24 Hours Fitness. 24 Hour Fitness is the second largest fitness chain in the United States.
You can only imagine the volume of data their processes generate. In fact, in order to deal with the vast amount of data, 24 Hours Fitness had to deactivate the business process history to be able to operate efficiently. In the technical context, all access operations to the many systems 24 Hour Fitness utilizes, go through Camunda: one of the most modern Open Source platforms for workflows and decision automation available on the market.
NTConsult is certified as a Camunda Platinum Partner and we were brought in to work along-side their team. We have years of experience overcoming challenges in the business process automation area by using systems such as Camunda. And, we bring this expertise to our customers around the world, with projects in 8 different countries currently.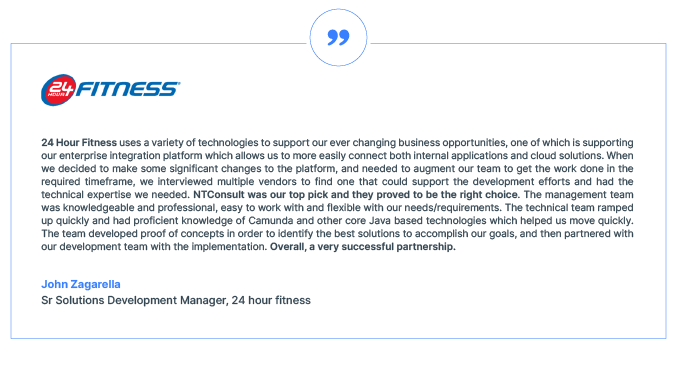 As for our work with 24 Hour Fitness, we delivered a team of Camunda specialists for a project that involved the study, diagnosis and proposal of improvements, with the implementation of cutting-edge technologies. We pride ourselves in creating synergy between the business world and technical world and thus creating solutions that give our clients the best of both worlds. We are honored to have had the opportunity to work with 24 Hour Fitness on such an important project, and we are glad our work helped them overcome many of their pain points.
This is technology in fitness chain.
Looking to streamline your business? Get in touch with us and let's code the future of your business together!